09.12.23: Page 130 is up. Apologies for the one-page updates of late; the current pages are far more time- and work-intensive than any previous.

I designed a T-shirt! It's up on Printify and Teepublic if you'd like one. I'm not making any profit off these due to the song lyrics on the banner. Please pick one up if you like!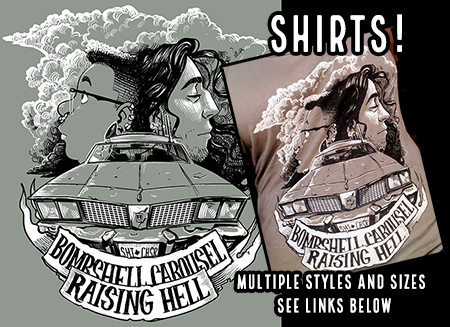 Shot-chaser-shirt.printify.me/products
Teepublic.com/user/bbt-designs

If you'd like to help me allot more time for Shot and Chaser, please considering supporting me on Patreon!

---
Thank you for reading SHOT AND CHASER! If you enjoy it, please consider checking out my previous webcomic, TJ AND AMAL, which ran from 2008 to 2014.

Many thanks to Polygon.com for the feature including TJ AND AMAL!

---
You can also help me keep making original comics by supporting me on Patreon! Patreon backers get access to pages as they're completed, concept sketches, doodles, and occasionally NSFW art.

This comic updates every Tuesday with two pages. (Maybe more or less depending on a good pause point.) SHOT AND CHASER is also mirrored on Tapas with a 2 week delay.
Apologies to readers who followed Shot & Chaser on Webtoon; after the hiatus I was unable to retrieve my account info. Due to this and some of Webtoon's business practices, I'm no longer using it.
---

RSS added for page updates. (Feed pulls from this news section.) Many thanks to @nfagerlund for the help!

04.19.22: Site launched with pages 0-9.