Monday, November 23, 2015:
- Now up on Kickstarter: Fables and Fairytales Volume 3! Features comics by Gene Luen Yang, Nina Matsumoto, Carla Speed McNeil, and many more. I also have a 10-page comic in this anthology, if you're interested! I've withdrawn my comic from the anthology and will be putting it online shortly. Apologies for the inconvenience.

Thursday, November 12, 2015:
- Many thanks to The A.V. Club for the great review! Link added under Press.
- Hard and softcover editions of the TJ and Amal omnibus are now available at Iron Circus Comics.
- The epilogue comic is currently being reprinted and should be in stock again later this month.

Wednesday, October 21, 2015:
- Black Girl Nerds, Gay League, and Broken Frontier added under Press.
- The TJ and Amal Omnibus should be available this week at Iron Circus Comics
- I'll be a guest at Nijicon this weekend!

Tuesday, September 15, 2015:
- The TJ & Amal Epilogue Comic is now available! The first print run is 250 copies, but this isn't a limited item; if it sells out I will print more.
- The Omnibus Edition is currently shipping to Kickstarter backers from Iron Circus Comics and should be available for purchase soon via Iron Circus' website.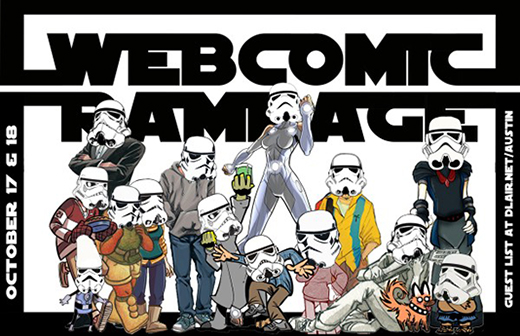 Webcomics Rampage 7 is coming up! I'll be there along with Randy Milholland of Something Positive, Ngozi Ukazu of Check Please!, Melanie Gillman of As The Crow Flies, and more!

Wednesday, August 5, 2015:
- Kung Fu Hustlers (18+) is back in stock in the Store!
- The TJ & Amal Omnibus Edition came out beautifully! It should be available for purchase soon via Iron Circus Comics.
- Thanks to everyone who came by during San Japan! If you'd like to see some of the commissions I drew during the weekend, I've put them on tumblr here.
- The epilogue comic is on the printing presses!

Monday, July 13, 2015:
- At the end of this month, I will be in the artists' alley at San Japan with friend & fellow artist Jamie Kinosian. Hope to see you there! I should have copies of the omnibus edition available.
- Speaking of which, the paperback edition of the omnibus leaves the printer in Quebec on July 15, and should arrive at Iron Circus a few days later. Hardcovers ship out on August 5. I spent last night fixing up the PDF edition; will post links to that as soon as things get sorted wrt distribution.
- Happy to announce that I'll be a guest at Nijicon 2015, October 24 + 25, in Oaks, Pennsylvania! Please drop by and say hello if you're in the Philadelphia area.
- The epilogue comic is still coming along; I'm doing final touches and hope to have it off to the printer at the end of this week.



Wednesday, June 3, 2015:
- Links and such added for purchase of French and German editions.
- Work on the omnibus continues. Should be sending corrected files to the printer on Friday evening.
- Convention news coming up!

Friday, May 29, 2015:
- The German edition of TJ & Amal Volume 1 is now available for purchase!

Tuesday, May 26, 2015:
- I want to apologize to everyone who was unable to find me at Anime North this past weekend. I was brought in as an artist guest, but at some point the decision was made to omit any mention of me from the website, the program guide, and the schedule. My table location also went unlisted. I was not notified of this and am not sure why it happened. This omission resulted in a lot of TJ & Amal readers either searching unsuccessfully for my table, or unaware I was even there.
Thanks so much to the folks who were able to find me, or who stumbled across my table. I had a blast signing your books and drawing commissions. Thanks also to the staffers who helped us out over the weekend.
- Work continues on the omnibus edition. A paper supply hold-up caused some delays, but tonight I am checking over the pre-proofs! Also inking the last two pages of the epilogue comic this week.

Monday, May 11, 2015:
- In a few days I'll be in Toronto for Anime North! I'll have an exhibitor's table and will be signing books and taking a limited number of commissions. Come by and say hi!
- Unfortunately, I won't have copies of the omnibus in time for the convention (it's still at the printing press), but it should be available via the TJ & Amal Store and via Iron Circus Comics in early to mid June!
- FAQ Page updated with omnibus and convention info.

Thursday, April 16, 2015:
- The collected edition is off to the printer! This is going to be a gorgeous book, and I'm so excited! Good news: if all goes as planned, I'll have copies available at Anime North next month.
- The last two pages of the comic have been updated for clarity and to reflect the content of the collected edition. This is the way I originally wanted to do the ending, but didn't have the time needed to do the final spread. Enjoy, and thanks again for your support!

Wednesday, April 1, 2015:
- Sorry I didn't have time to do anything elaborate this year ;_;
Here are the previous April Fool pages (warning: sound): 2014 - 2013 - 2012 - 2011
- Not a joke: Publisher's Weekly feature added under Press.

Tuesday, March 31, 2015:
- Thanks so much to everyone who made the Kickstarter a success! We're hoping to send the omnibus to press in mid-April.

Wednesday, March 18, 2015:
- Comics Alliance Interview added under "Press".

Tuesday, March 17, 2015:
- The TJ & Amal Omnibus Kickstarter has soared past goal! Hardcover editions are now available, and the paperback copies will be even higher quality than before. The pledge period lasts for another 8 days, so preorder your copy today!
- Interview with The Austin Chronicle added under "Press".
- If you prefer individual volumes, I've found a few more copies of Volume 2, so those are available again in the Store.


© 2007-2010 E.K. Weaver/Big Big Truck Productions